We help you understand your customers.
We help your customers understand you.
| We help your customers: | | We help you: |
| --- | --- | --- |
| Manage their energy use to reduce their bill and reduce your costs. | | Keep your customers informed, happy, and loyal. |
| Participate in demand response and become effective market participants. | | Manage demand and stabilize your wholesale costs. |
| See beyond the bill and understand the services you provide. | | Take advantage of smart meter data to fill your knowledge gaps. |
Connect with your customers
Give customers what they want while understanding what you need.
Both you and your customers want to stay informed. Customers want to understand their energy usage and have easy access to their accounts. You need to understand your customers' usage in order to make good decisions. That's traditionally been a big challenge — we make it easy. By delivering personalized content over email, web, social media, and mobile, we provide the engagement both you and your customers need.
Our Solutions:
Simple Setup

Start delivering valuable data to your customers as early as next month with our proven six-week implementation.

Immersive Experience

Deliver a fully branded experience with all the information your customers want, and easy access to the options they need.

Low Overhead

Reduce your costs with our fully hosted solution. Say goodbye to the pain of database licensing, hosting bills, and maintenance overhead.

Usage Engagement

Help customers understand their usage, reducing bill complaints and making them more efficient consumers.
Don't just take our word for it...
From the start, Lowfoot has given my customers easy access to their meter information. Now, in addition to providing usage insights, Lowfoot's unique push technology ensures my customers get their data when, where and how they want it.

— David Whitehouse, Director Customer & Corporate Services,

Peterborough Utilities Group

Lowfoot was able to address all of the complex data security and privacy requirements demanded by the energy market regulators in the Netherlands. Their flexibility and commitment helped ensure the success of our project. Plus, they're really nice guys.

— Talitha Koek, Energy Efficiency Program Manager,

Natuur & Milieu
<
>
Effectively mitigate price volatility
Managing Demand Response
Weather events, distribution disruptions, and intermittent supply from renewable sources all cause wholesale prices to spike. Demand response has become a critical tool to stabilize your wholesale costs and reduce your exposure. Effective demand response programs shift load during peak hours and reduce demand during periods of limited supply.
Lowfoot's deep experience in both the utility and retail energy sector has helped us develop a unique set of demand response tools that take full advantage of smart meter data. Using incentives, social media, and push technology, our programs are effective for small commercial and residential customers.
Our Solutions:

Bypass Capacity Constraints

High-growth markets across the country are seeing new demand outgrowing existing supply. Lowfoot's demand response tool allows providers to grow their customer base now, without waiting for long-term grid improvements.

Reduce Wholesale Price Volatility

Lowfoot analytics forecast demand curves and compensate for volatility. We combine actual smart meter and weather data with behavioural analytics to provide cutting-edge forecasting.

Target Local Network Congestion

Lowfoot gives you the flexibility to strategically target your demand response solution down to the meter level. Get granular and get results.

Increase Export Efficiency

Do you have an export service? Manage local demand to increase your wholesale export opportunities.
Case Study: July 2013: Ontario Critical Power Event The Idea:
During the July 2013 heat wave in the northeast, Lowfoot deployed our voluntary demand response tool in the Greater Toronto Area. Lowfoot members were offered cash to reduce energy usage during peak hours. We took advantage of multiple communications channels, both private and social, to get the message out.
Results: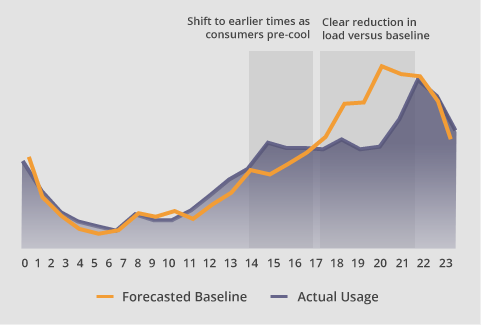 Following the event, reductions were calculated using our forecasting algorithms. Within 48 hours, all participating members who successfully shifted load received a cash payment.
Of the Lowfoot members who were asked, 20% agreed to participate.
Of the members who participated, over 66% reduced their usage during the event.
On average, participating members reduced 25% of their discretionary load.
At scale, these reductions would be equivalent to deploying a gas plant. We're constantly evolving our demand response tools and expect to see even higher response rates in the future.
Putting it all together with
Data Analysis
Big Data

Lowfoot's patent-pending big data tools digest and analyze large amounts of meter, weather, and tertiary data sets giving our customers staggeringly accurate results in blazingly fast response times.

Forecasting

Lowfoot's patent-pending algorithms bring unheard-of accuracy to forecasting. Using meter-level data and extensive weather data, our forecasting engines succeed where profiles fail.

Open Data Potential

Lowfoot's big data engine effectively combines smart meter, weather, and behavioural data with other key data points. With our push/pull technology, providers can integrate outage management, service interruptions, transforming loading, and other solutions with their existing customer management programs.

Customer Insights

Lowfoot gives utilities and distributors unprecedented insight into their customers' requirements and interests. Our tools allow energy consumers to measure and monitor their usage. With open lines of communication between consumers and providers, we can measure the level of consumer engagement in programs, and design incentives that will motivate change.
News
Fuel Fix

August 26, 2013

As the Texas power industry and its regulators debate how to generate enough electricity to accommodate a growing population's demands, they also are looking at ways to reduce that demand when it's highest. Read more…

QP Briefing

July 17, 2013

In response to the hourly price of power in Ontario jumping to $158 per megawatt/hour, more than five times the typical level, Toronto-based energy conservation company Lowfoot decided to do something about it. Read more…